For those of you who have a blog I would like to recommend a free blog tool being made available from Logos Bible Software. This is a simple piece of code that can be added to your blog in order to allow your readers to access the text of the Scripture passages you cite. I added this tool to this site about three months ago and have been very happy with the results.
If you've seen this icon
following the Scripture references on this blog, RefTagger is what this is all about. I no longer have to add hyperlinks to Scripture references in order to link my readers to the text online. RefTagger takes care of this automatically.
This tool has been updated and is even cooler! Now, when you place your cursor over the Scripture reference a pop-up box will appear displaying the text. There are only three translations currently available; NLT, KJV, and ESV. From what I understand, other translations will be added soon. I have chosen to display the ESV text.
Try this out. Put your mouse over some of the following Scripture references to try this out:
Romans 8:1-2
Romans 8:31-39
Psalm 103 (Psa 103:1-21 [corrected])
Job 1:21-22; 42:2-6
Isa 42:1-4 (That abbreviation doesn't work, but this one does - Is 42:1-4)
This is how it ought to look: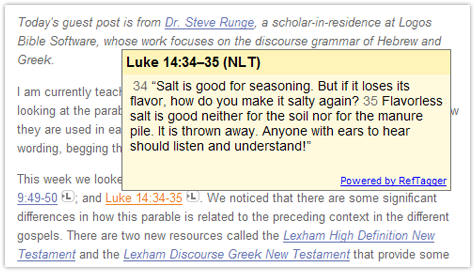 Now, go get it!
Here is more information from the
Logos blog
:
HT: Thanks to
Phil Gons
for bringing this tool to my attention!